A FASHIONABLE QUEST
New York designer Angel Chang looks for tomorrow's runway in the mountain villages of Guizhou Province
By Justin Jin
Dimen — Storm clouds gathered above Dimen, and howling winds sent rain pelting into the guesthouse as staff welcomed Angel Chang on her arrival from New York.
Back in the kitchen, the cooks were slaughtering chickens in her honour when the lights went out, shrouding the guesthouse in darkness.
"I was in a horror movie," Chan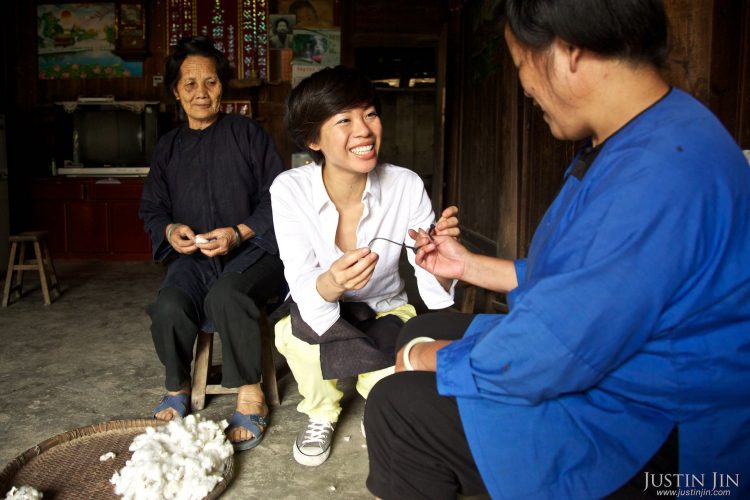 g remembers. "In the middle of a blackout you hear the dying chickens screeching." A guesthouse staffer recalls seeing Chang, an internationally acclaimed, 39-year-old fashion designer, huddled in a corner of the dark hall, phoning a friend on the other side of the world.
The blackout lasted two nights. Rain dripped from her room ceiling over her instruments and fabrics. "Everywhere was a wet mess," says Chang. The American-Chinese designer could have returned to New York or escaped to Paris. Instead, she stays in the Chinese mountain village for another four months, searching for intricate fabrics.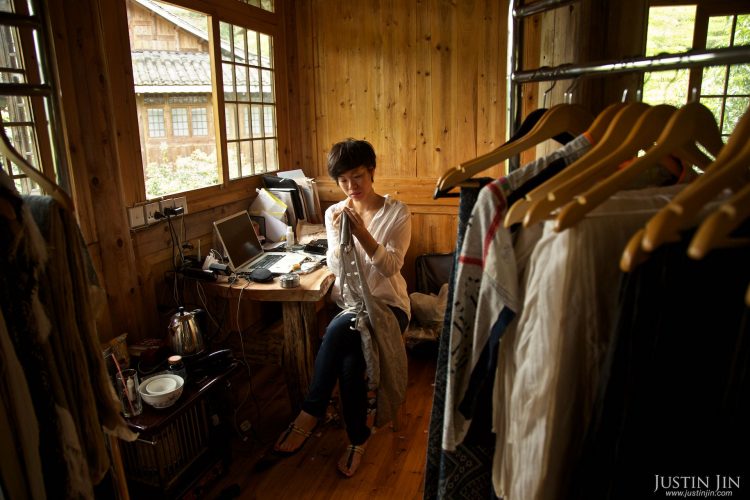 Chang describes her design sensibility as functional, and travel-friendly; clothes fit for the modern woman who is serious and fun at the same time. Her namesake collection, ANGEL CHANG (founded in 2006) grows out of a vision to offer women great-looking clothes that could "do things". A previous collection incorporated innovative, high-tech garments like colour-changing prints, light-up fabrics, and self-heating linings –a first for the American luxury designer market.
As a result of these pioneering efforts, her label received the coveted Ecco Domani Fashion Foundation Award and the prestigious Cartier Women's Initiative Award within the first year of its launching.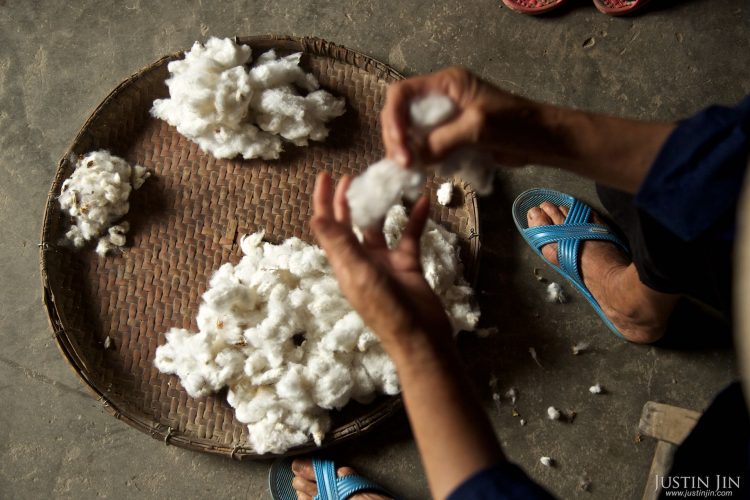 But Chang senses a change in taste among her customers. Fashion needs to be less wasteful and more environmentally conscious, but still look good. She wants to move away from the kind of industrial textile mills that pollute China's southern coast and turn to natural fibers and dyes that are environmentally sustainable.
Chang, who once designed embroidery for the Donna Karan collection, says she is "stunned by the sophistication and detail" of the peasant fabrics created by the women of Dimen. "The craftsmanship here is on par with haute couture", she says. Other fashion authorities agree; no less than the British Museum in London and the Metropolitan Museum of Art in New York have Dimen textiles in their collections.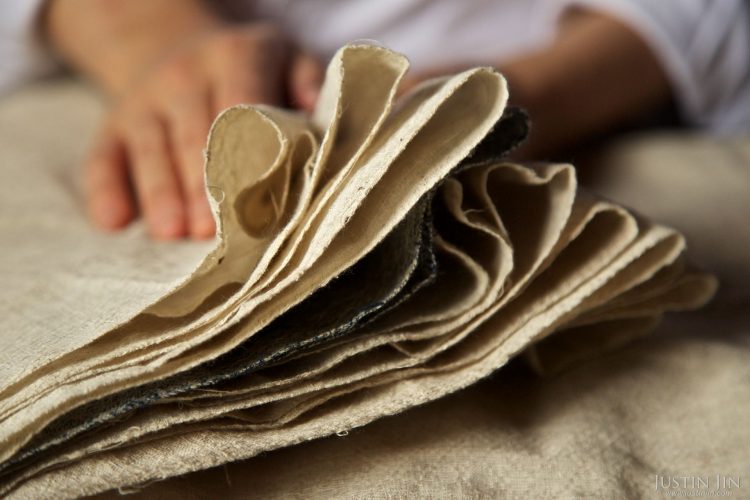 Chang came to China to find artisans to recreate these unique fabrics for a mass market. Her journey took her to Guizhou, one of China's poorest provinces. It is, however, rich in natural resources and has dozens of ethnic minorities, including some that boast the best fabric-weavers and hand-embroiders in the country.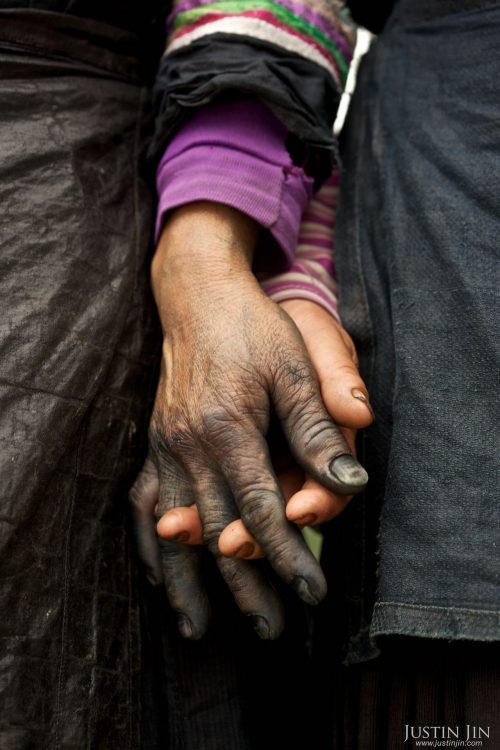 She seeks the expertise of Professor Yang, a Miao ethnic minority from the village of Xijiang, who collects plants from the nearby forest to use as dye. Natural dye appeals to the eyes too. While chemical dyes are predictable, consistent and bright, those made from vegetation are varied, depending on climate, soil, region and farming method. The colours fade beautifully, and reveal rich patterns underneath.
"It is alive," says Chang, "It looks like skin".
But that beauty takes time. A typical, twelve-step process for dyeing fabric with indigo is labor intensive and takes about a month to finish ten metres of fabric. Garments are custom-made for individuals, not mass produced. Each item of clothing is made using natural, sustainable techniques that have been perfected over hundreds of years.
"During my visit to the villages in Guizhou, I knocked randomly on a wooden door and found a woman embroidering inside her home," says Chang." The main room of her house had a dirt floor, one wood-burning stove, and a dim lightbulb hanging from the ceiling. Amidst such bare and impoverished living quarters, I was shocked to see her stitching an exquisite piece of embroidery! It was like discovering gold and looked just like the fabrics I saw in the museums."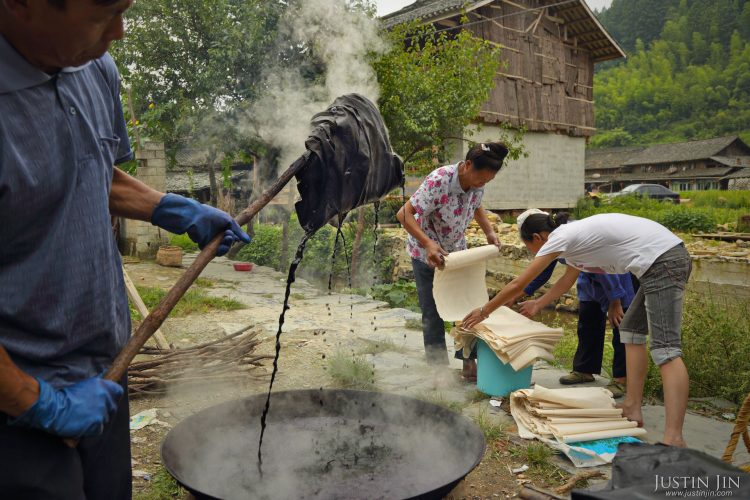 Many of the ethnic minorities who live in this village do not have a written language and instead create patterns in fabric to convey stories. Their history is, literally, written on their cloth. "The Miao and the Dong minorities make such intricate designs because they do it out of love," Chang explains.
Mothers teach their daughters the dye and weaving techniques. In the old days, these young women would then make clothes for themselves and their children. However, these gifts of love are very time-consuming — a jacket can take up to two years to finish – and traditions are lost as younger people flee to rich coastal areas to work in factories. Since textiles of the ethnic minorities are tied with oral history, records of the past erode, too.
Chang sees it as her mission to provide economic incentives for the younger generation in Guizhou to pick up the art both for their sake and hers.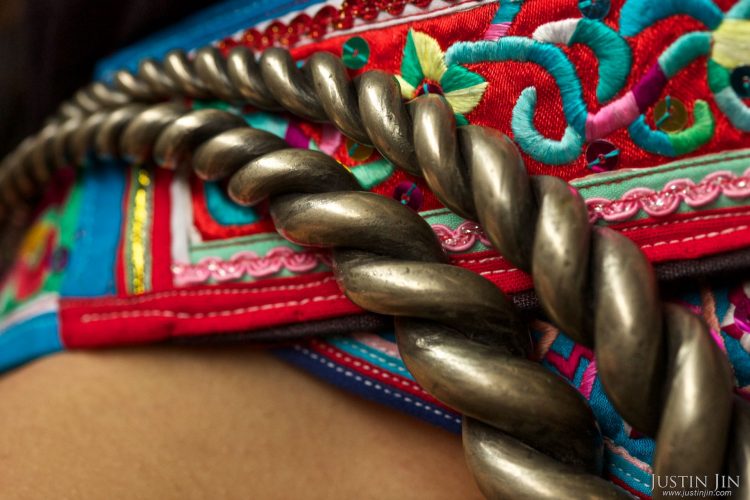 "I need people to weave my fabrics. When these old women die, who is going to do that? Their daughters won't," says Chang, who wishes to provide the Western market with high quality, all-natural organic raw materials that leave the smallest footprint on the environment.
Her collection will be small, exquisite and beautiful.
"Bringing Western admiration to these indigenous fabrics will inspire the younger Miao generation – who themselves greatly admire the West — to learn their craft and pass down the fabric tradition," says Chang.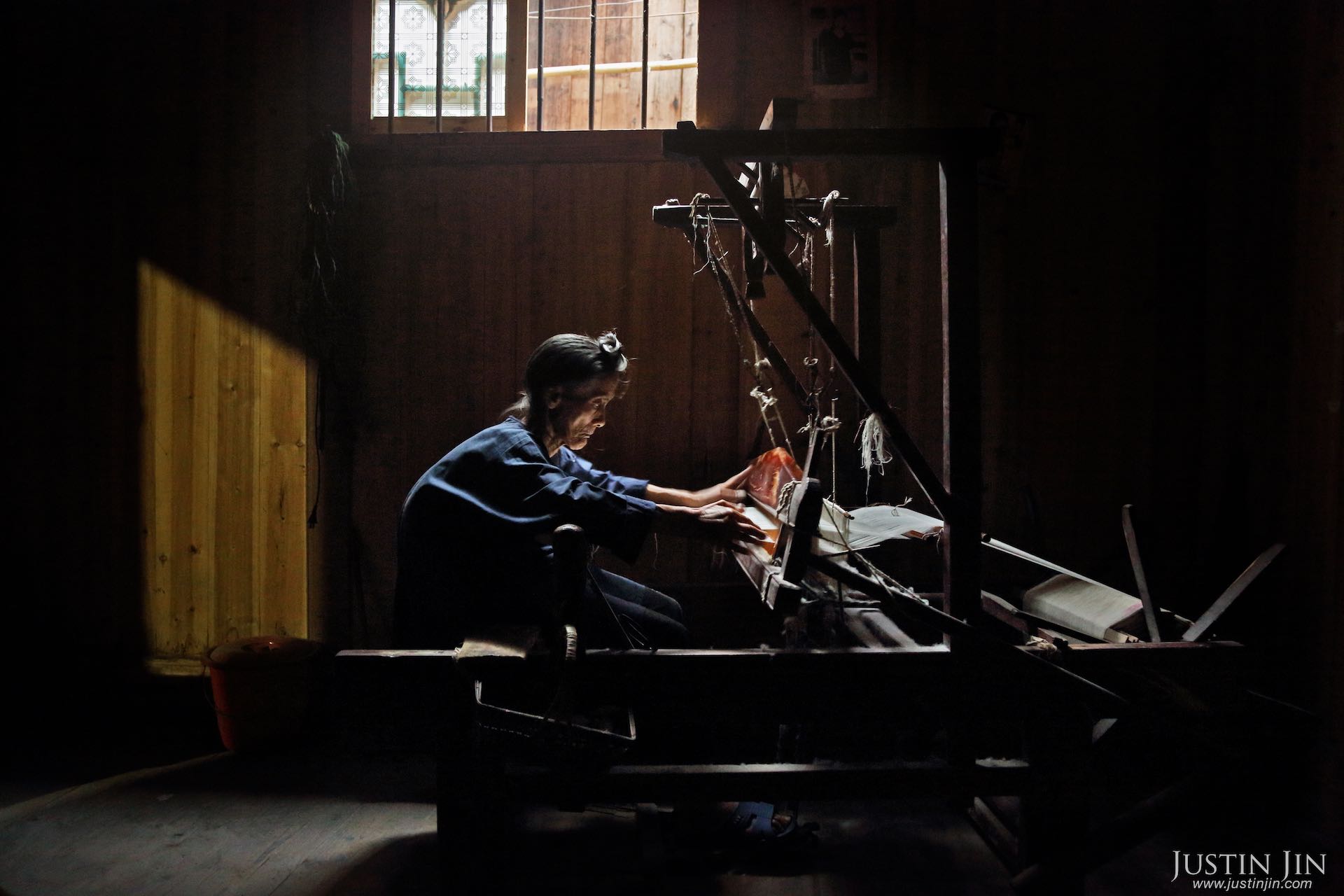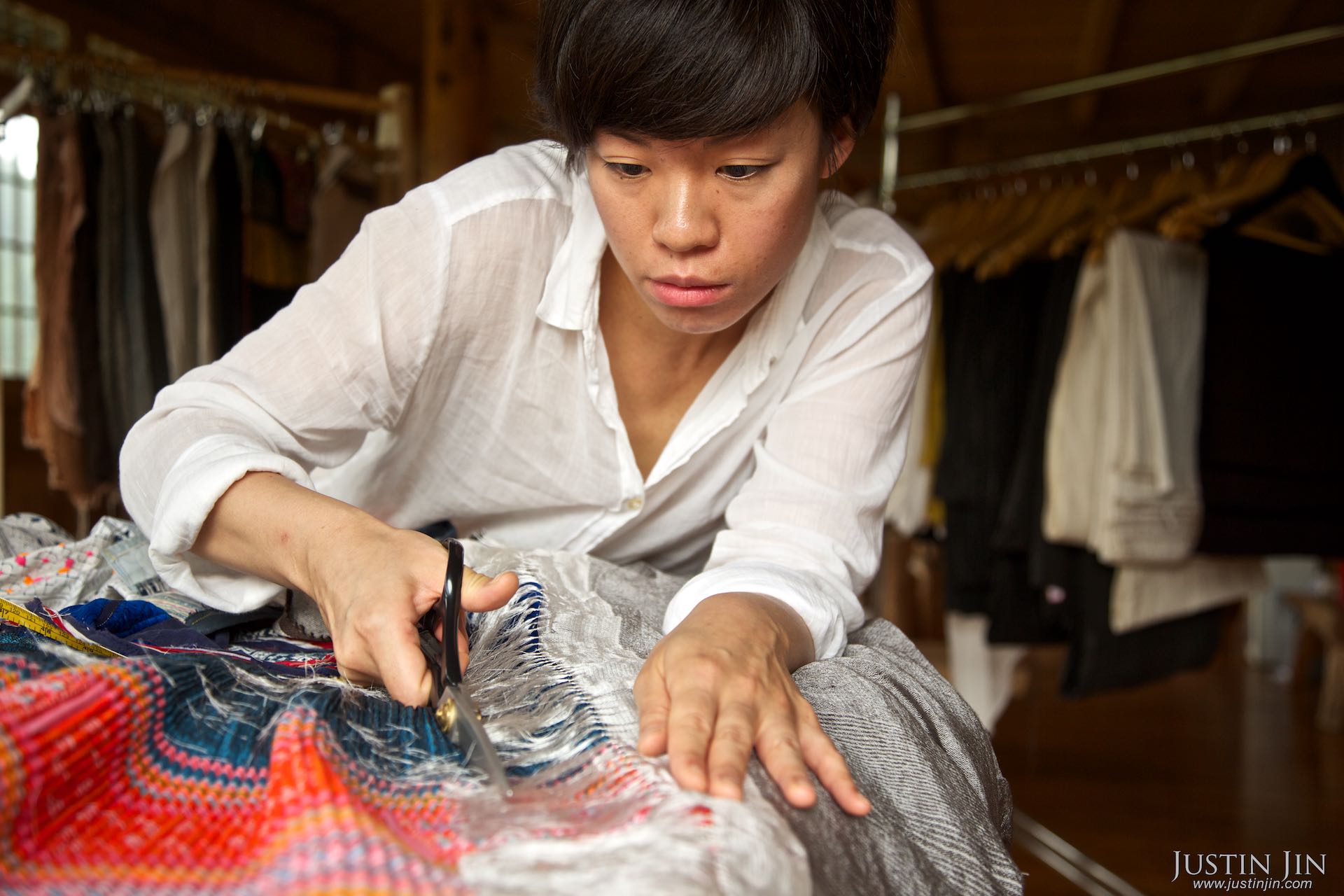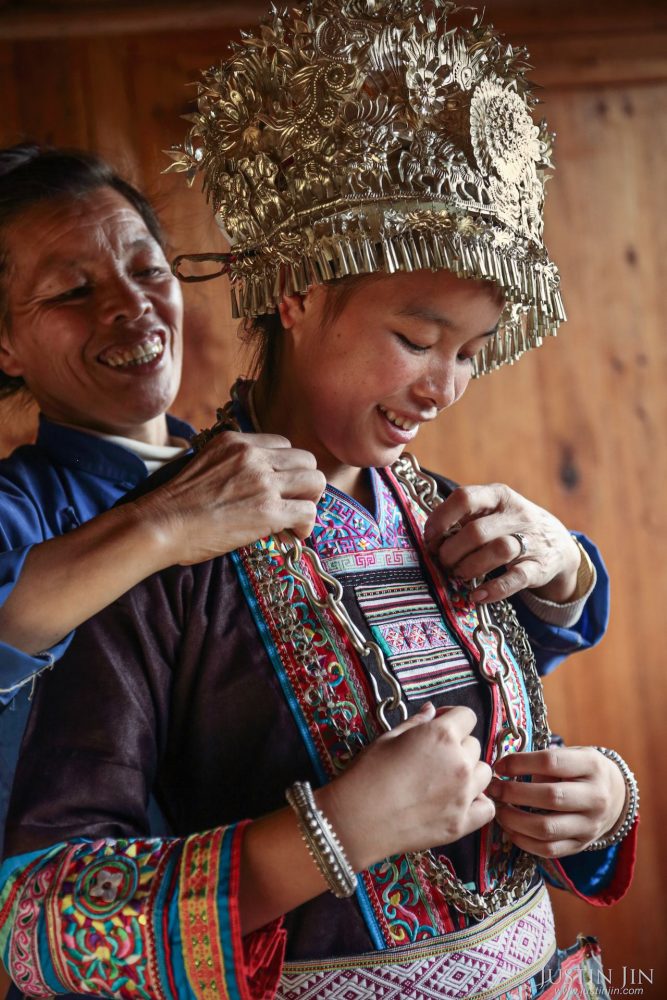 Layer by layer, lace by lace, Mother Wu drapes her daughter in the garment she began while pregnant with Xia, before she knew her baby would be a girl, let alone what kind of girl she would grow up to be. When Xia was born, Mother Wu continued to weave and embroider ribbons and shirts whenever she was not in the field planting rice. Women embroider with just a single needle and without a fixed pattern, using their stitches to express feelings for their children. The Dong people have no written language, but their textile craftsmanship is unmatched in its refinement, and a clear communication of love.
Mother Wu crowns her daughter with the golden headgear. Her thumb and index finger, normally used for rough, heavy work, caress every strand. Everything fits. Mother Wu's stoic face melts, and the deep lines that come from hardship are recast with the dignity of sacrifice.
According to Dong people, one of the 56 officially-recognised Chinese ethnic groups, the dress should be presented to the child during an auspicious event in her early adult life. Three events are paramount: giving birth to a male, building a house, and assembling one's coffin. But for Xia and her mother, today is that day they've been waiting for. Xia is leaving for university.
The dress transforms Xia, as her academic progress will transform her family and, in a small but significant way, her lush, remote mountain village. Here, centuries-old traditions continue. But as China races ahead to a prosperous future, ceremonies like this disappear as fast as the super highways and train tracks make their way from Shanghai to Guiyang and Lhasa.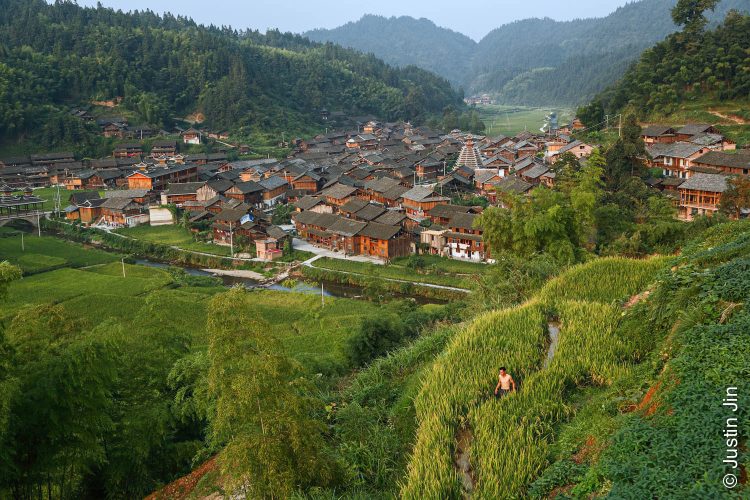 This village of 525 households in the impoverished province has few modern amenities. As a child, Xia walked two hours along mud paths to
her primary school every day. Teachers spotted her talent early, and sent her to the county high-school, reachable only by bus. Since the family could not afford transport, she boarded at the school and came home only during term breaks.
Xia excelled, and graduated this summer. She returned to home village, worked on the family farm, and waited for a letter. When it arrived, so did Xia's unexpected future: a prestigious university accepted her to study food science. The news surprised Xia, but not her mother. This time, though, Mother Wu was determined not to repeat her life's biggest regret.
An Education Denied
A decade earlier, Mother Wu's first daughter, Nong, was just as successful in school as Xia. But though secondary education is free in China, the family withdrew Nong from school because they could not afford her bus ride or books. Nong's teacher visited the house several times, pleading with the Wus to find a way, insisting that Nong could one day go to university. But Mother Wu said it was impossible, and Nong, then 14, returned home sobbing on her last day of school.
A week later, Nong left home with five former schoolmates and a fake ID in search of work in Guangdong.
Mother Wu swore her three other children would study, but her husband offered no support. So she took on the burden herself, leaving home for two months at a time to carry timber, eating and sleeping in the mounts. Her earnings – RMB5 a day – allowed Xia to complete both junior and senior high school.
In school, Xia received one academic award after another. Mother Wu calculated the cost of her daughter's success, and knew she had to be bolder. Sending Xia to university would cost RMB60,000 over four years, an
astronomical sum for a family that earns no more than RMB1,000 a year. In 2009, Mother Wu, like most people of working age here, headed off to prosperous coastal Chinese provinces in search of work. She found a job cutting plastic sheets in a building material factory in Guangdong, earning RMB1,800 and sharing a dormitory room with seven other women.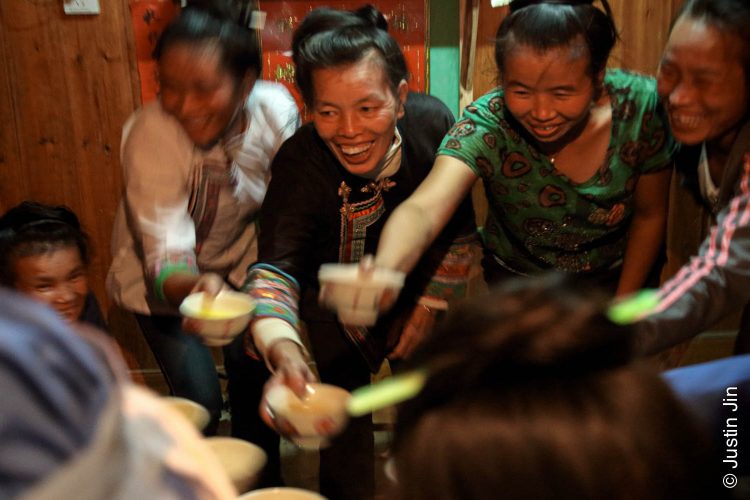 When she learned of Xia's acceptance to university, Mother Wu felt euphoric. But she also experienced "deep guilt and regret," she says, for failing her first daughter. She pushed those feelings aside
and took a 10-day leave from her job to rush home and celebrate with Xia.
Living in the Past
When Mother Wu returns, there are few people her age to welcome her. Officially, 2,380 people live in the village. But some 60 percent of them live as migrant workers in distant provinces, says a local academic. The 1,000 who remain are very old or very young, and grandparents look after the children.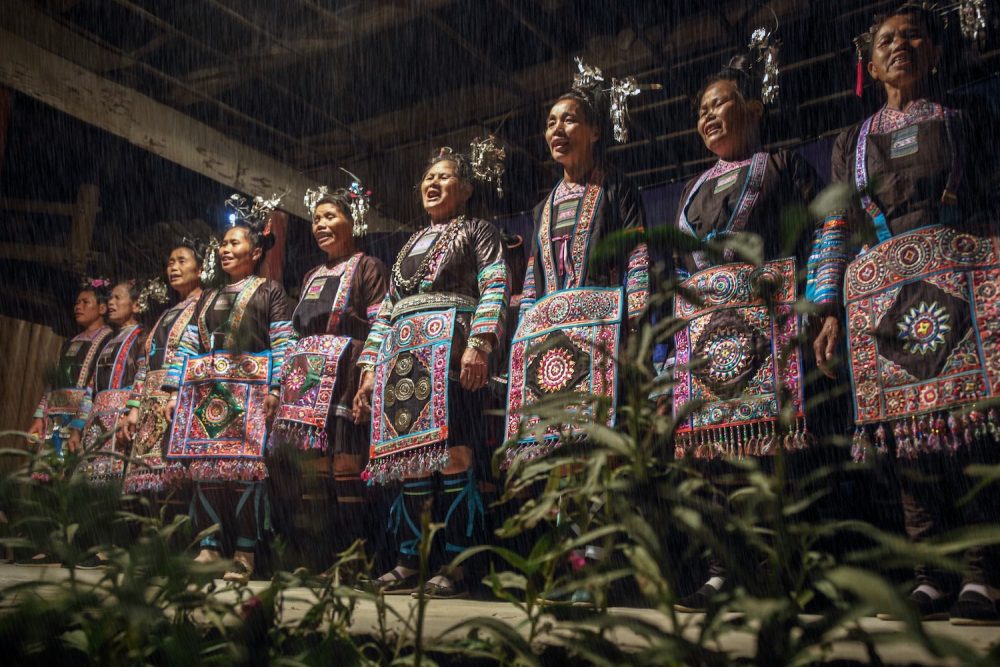 With this exodus, traditions quickly erode. Singing, for example, has for centuries been the way Dong people communicate, but nowadays you hardly hear it. Paper- making, weaving, and embroidery are all exquisite crafts that may die with the
older generation.