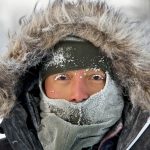 Je peux guarder le cap de mes convictions, prendre des photo de célébrités et manger de la cervelle crue de rêne en Antarctique. Je traverse les cultures, montagnes et les neiges éternelles afin de poursuivre jusqu'au coeur, des histoires uniques.
Je suis né à Hong Kong en 1974 et voulais voir le monde. Je me suis mis au défis d'apprendre à parler Anglais, deux dialectes chinois, Russe, Néerlandais et Français. Les langues que je parle ainsi que mes connaissances culturelles m'ont ouvert des portes vers des personnes et histoires exceptionnelles, au cours des plus de 15 ans que compte ma carrière en tant que photographe  et aillant été publié par des publications les plus connues au monde. Quant je ne voyage pas, je suis pris par mon écriture en équipe, la recherche de nouvelles histoires et la découverte de nouveaux chemins.
Mais au final, c'est toujours l'exploration, le fait d'aller jusqu'au bout de l'histoire et en rapporter des images et des mots inspirants, qui continue d'alimenter les flames de ma détermination.
[formlightbox_call title= »Extrait d'une interview » class= »interview button icon-play »]Extrait d'une interview[/formlightbox_call]
[formlightbox_obj id= »interview » style= » » onload= »false »]
[/formlightbox_obj]
Testimonies
« Justin Jin's artistic documentary approach was a real coup for us –  His sheer passion for the task made a real difference in how Martell communicated,"
 Frances Alvarado, Group Account Director for 
Martell
 Brands in China.
"Justin's photographs are absolutely fantastic. It is amazing what he made out of these really difficult set-ups,"
 Annette Engelhardt, 
IWC
Schaffhausen
.
"Justin worked quietly and submitted the most extraordinary images that describe the essence of the country and humanity,"
 Lysbeth Holdoway, Media Relations Manager, 
OXFAM
"Justin Jin…a rising star of the industry." Florian Hanig, chief editor of GEO Magazine's Special Edition, writing in the editorial.
"Justin has the wonderful gift to transfer the soul of people and places into his pictures,"
 Annegret Schlabe, Communications, Wintershall, 
BASF Group
.
"Everyone was thrilled with Justin's work once again,"
 Michele Hadlow, Senior Photo Editor, 
Forbes Magazine
, New York.
"This work is magic,"
 Pierre Berard, Director of Marketing, 
Pernod Ricard
 (China)
"Justin brings substance, creativity and stories into his photographs and elevates our video series,"
 Eliza Wong, Creative Director, TBWA\Shanghai, on the 
Martell
 campaign.
"Everyone at GE absolutely loves the work. The word "obsessed" has been used!"
 Marissa Amendolia, Account Manager for 
GE, BBDO 
New York. 
"Clients loved the work and expressed their appreciation for the beautiful portraits,"
 Akos Papp, Art Director on the GE "Faces" campaign, 
BBDO
 / New York.
"Justin's humanistic imagery powerfully connects brands with consumers through real people, real impact, real stories,"
 Jason King, Group Planning Director, 
BBDO
 Shanghai.
Documentariste international, Justin Jin capture des projets épiques du fin fond de l'artic russe ainsi que des articles de première page sur l'explosion démographique des mégacités chinoises. Justin vise la à crier des images à la fois belles et inquiétantes, urgentes et durables.
Né à Hong Kong en 1974, éduqué en Grande-Bretagne (B.A., M.A. Cambridge, en philosophie et sciences politiques), et maintenant basé à Bruxelles, Justin parle couramment anglais, Mandarin et Cantonais, suffisamment Russe, Français et Flamand pour travailler avec. Il a commencé sa carrière comme un correspondant pour Reuters, écrivant sur les problèmes socio-économiques et est devenu chef de bureau d'une équipe de 8 personnes du sud de la chine avant de forger son propre chemin comme photographe indépendant et publier des histoires dans les magazines les plus reconnu comme Geo, le Sunday Times ou encore Stern.
Justin aide aussi les compagnies responsables à visualiser leur message et étendre leurs possibilités. Il a également travaillé sur de grands projets comme centre créatif; photographe, producteur vidéo exécutif et écrivain, le tout en un.
Des prix internationaux attestent des aptitudes de Justin, comme le Magnum Emergency fund, Pictures of the Year International (POYi) et le World Press Masterclass. Le Rijksmuseum d'Amsterdam lui a commandé une exposition majeure en solo, et son projet Artic a été exposé au Visa pour L'image in Perpignan. Là ou la photographie documentaire montre souvent les sombres réalités de la vie, Justin vise à créer des images qui émettent de la lumière.
www.justinjin.com
justin@justinjin.com
+32 2 888 5447 uniquement en cas d'urgence
Chronologie
| | |
| --- | --- |
| 2013 | "Zone of Absolute Discomfort" wins Award of Excellence at Pictures of the Year International (POYi); shortlisted for Sony World Photography Prize; Martell campaign launches across China. |
| 2012 | "Zone of Absolute Discomfort" premiers at Visa Pour L'Image in France; published by Geo around the world. "Gift of Love" premiers at a gala to launch Pernod Ricard's Jun Zing brand. |
| 2011 | Wins Magnum Foundation Grant with "Zone of Absolute Discomfort"; relocates to Brussels. |
| 2010 | Initial work from "Zone of Absolute Discomfort" wins GD4PhotoArt competition. |
| 2009 | Photo essay on Russian murderer-hero Vitaly Kaloev shortlisted for Hansel-Mieth prize. |
| 2008 | "Midnight Blue" headlines Lumix Festival in Germany; projected at Visa Pour L'Image; finalist for Amnesty International Media Awards. |
| 2007 | Shoots major stories for international publications including the Sunday Times Magazine, Vanity Fair, Forbes, Time, Newsweek, Geo, Stern and Spiegel. |
| 2006 | Moves to Moscow, learns Russian. |
| 2005 | Commissioned by FOAM Photography Museum in Amsterdam to produce exhibition on immigrants. |
| 2004 | Commissioned by the Rijksmuseum Amsterdam to photograph "Young People" for a solo exhibition; the Rijksmuseum collects 55 large prints. |
| 2003 | Wins the Canon Prize for outstanding young photographer |
| 2002 | Selected for the World Press Photo Masterclass |
| 2000 | First photo essay (on pandas) published in National Geographic and LIFE magazines |
| 1999 | Embarks on an independent career as documentary photographer and writer; relocates to the Netherlands |
| 1997 | Appointed Reuters correspondent in Beijing; appointed Chief Representative of an eight-person Reuters subsidiary in Shenzhen, southern China. |
| 1996 | Joins Reuters News Agency as a Graduate Trainee. |
| 1995 | Graduates from Cambridge University in Philosophy and Social/Political Sciences (B.A., M.A., hons). |