In 2010 and 2011, OXFAM approached me to work with them on a photography campaign to raise awareness of the economic stagnation and crumbling welfare that was plaguing post-Soviet countries, 20 years after the disintegration of the Soviet Union. I traveled with the ngo's Media Relations Manager Lysbeth Holdoway to Georgia, and then on my own to Tuva, Siberia. Lysbeth talks about the project:
"Oxfam has built up a reputation for using excellent photographers to represent our work abroad. We try not to be too prescriptive, especially for media work, and trust that if we have chosen the right photographer they will bring their own vision to the subject and that in turn will interest the media where we would like our work represented.
Justin's images from Tuva and Georgia were intelligent and original – one of his images featured as a double page spread in Intelligent Life, the first time we had appeared in the magazine which is known for its photographs.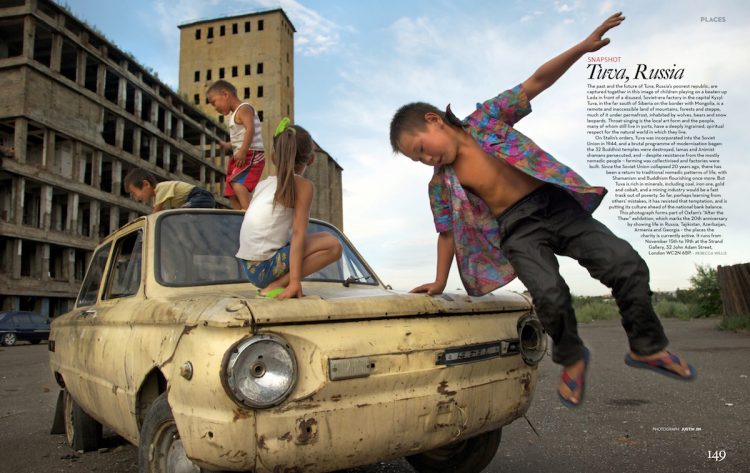 We included several of Justin's photographs in our exhibition After the Thaw which documented Oxfam's work in ex-Soviet countries. They contributed to a highly successful exhibition which was very well received. Some of those images were used in double page spreads in both the guardian and Metro – it is rare to get such space in the national press and photographs reach out to people in a way that print alone does not.
We have found that our investment in photographers pays off in many ways – really good images transend words not only in the UK market but with our affiliate countries too. But they have to be original – the days of showing an Oxfam worker next to a water pump are long gone.
Working with Justin was a pleasure. He was very self-motivated which is important when you are trying to help a journalist and translator while hearing someone's (usually harrowing) story. He worked quietly and unobtrusively with the communities we visited and then later, submitted the most extraordinary images. We have used them for many publications – not just media use – because they describe something of the essence of the country and the humanity of the people and are, at the same time, surprising."
See the photographs here.
Justin Jin